Is Tape Safe to Use on Walls?
Feb 8th 2021
Are you working within the wall décor industry and looking for solutions to mount décor temporarily or permanently? If so, Duraco's line of removable double-sided foam tapes is the answer. The most outstanding décor can be created; however, it should not be undesigned for the end user. One of the biggest mechanisms of a decoration piece that consumers will look at is how to mount the object safely and efficiently. If it requires tools or damages the walls when installed, it could be a no-go for them. Therefore, it is important to find innovative solutions that make the mounting process simple from beginning to end.
Why are these solutions needed? The main reason is that the easiest and greatest way to make a space feel like a home is to decorate the walls. Wall décor allows a person to style a room based on their own personal style and desires. The wall décor industry consists of consumers who are looking for interior decorations which provide ease of installation, without the trouble of pulling out a toolbox.
When designing these applications, it is important to keep in mind how they will mount it to their walls. In today's world, more people rent spaces for a brief period. They are permitted to damage the walls, yet still look for a way to make their space feel comfortable even if it is being housed for a brief period. Most wall décor items require some sort of fastener to attach them to the wall like a nail or screw. These types of fasteners take time to install and leave damage behind, which can be costly when a person is ready to move. Instead, save them a headache, and time with damage free mounting solutions.
Duraco Remo One® and Remo Two® products are perfect for mounting wall décor items. These tapes easily apply to substrates and once applied to a surface they cleanly remove leaving no residue behind. Our capabilities allow our products to be cut into custom sizes and shapes too. This allows the tapes to fit to your specific dimensions when creating a design. This provides solutions to get things up without the trouble of tools and pulverizing the walls.
REMO PRE-CUT PIECES: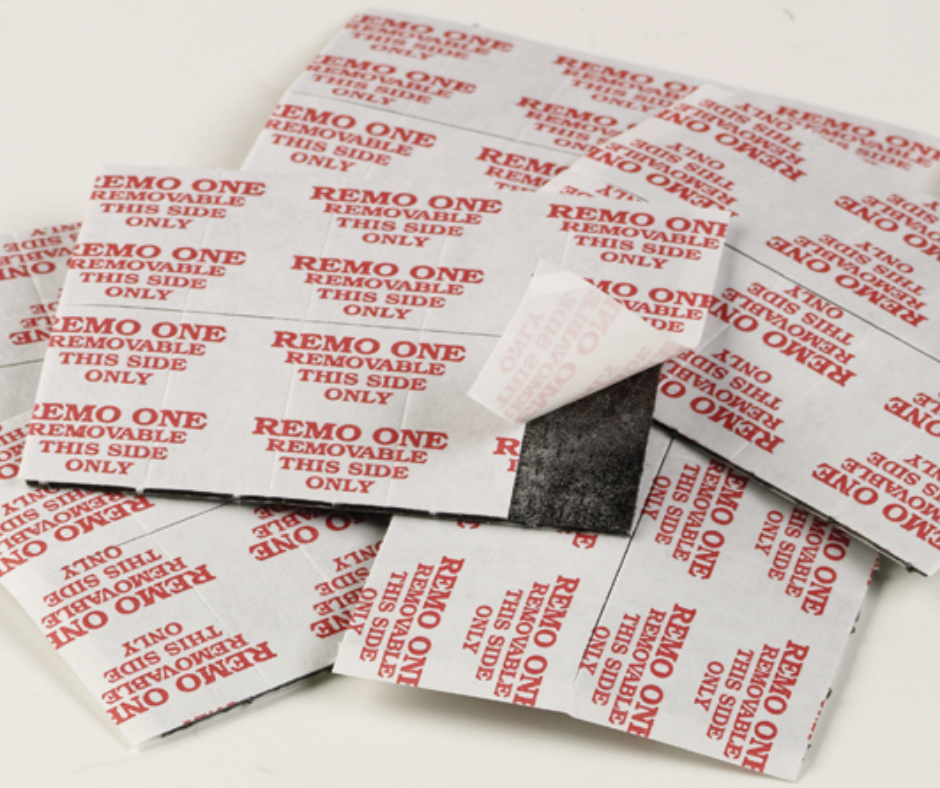 Remo high density foam tapes contain a permanent, removable adhesive. When used properly these tapes can hold a fair amount of weight and easily remove them from the surfaces. Overall, Remo works as a companion to most decoration applications and operators love how easy it is to use. Not only does this allow for adornments to hold fast to walls, but it also opens the way for objects to be hung up to other units. For example, a white board can easily be applied to a wood cabinet.
When producing your wall décor, which can consist of many variations, keep the end user in mind. Request a sample of our Remo products to try in your prototypes and see how well it works. It instantly adheres to create a strong bond when mounting and cleanly removes. This is one of the best innovative mounting solutions for the industry. Remo can be used to create mounting kits that are placed within the decoration packaging and is great for all those hard-to-stick surfaces Plus, it provides ease of installation for consumers, making them happy.
Questions? Contact a Duraco tape expert here.